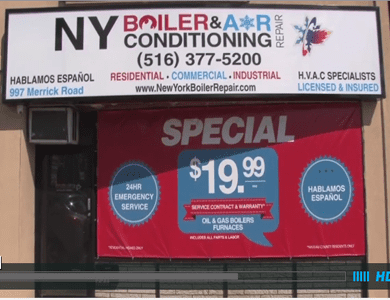 We are a complete line of HVAC specializing in Plumbing, Air Conditioning, Boiler Repair, and Burners.
"No matter what the season is, NY Boiler & Air Conditioning Repair keeps you warm in the winter, and cool in the summer!"
NY Boiler & Air Conditioning Repair ranges from commercial, residential, to industrial. We work all over Long Island, while serving the 5 boroughs. Owner Luis Medina is family oriented, and is often on site working with his trained mechanics. Keeping comfortable at home isn't always as simple as adjusting the thermostat, it requires an expert's touch. Whether you need a basic HVAC system inspection, or simply want to avoid costly problems down the road with routine HVAC maintenance, our New York Boiler & Air Conditioning Repair service technicians and friendly customer service folks stand ready to take care of all your heating, cooling and clean air needs.
Service contracts start at $19.99 and up. Service contracts cover anything from parts to labor, & service calls. Find a plan that fits your need and budget today!